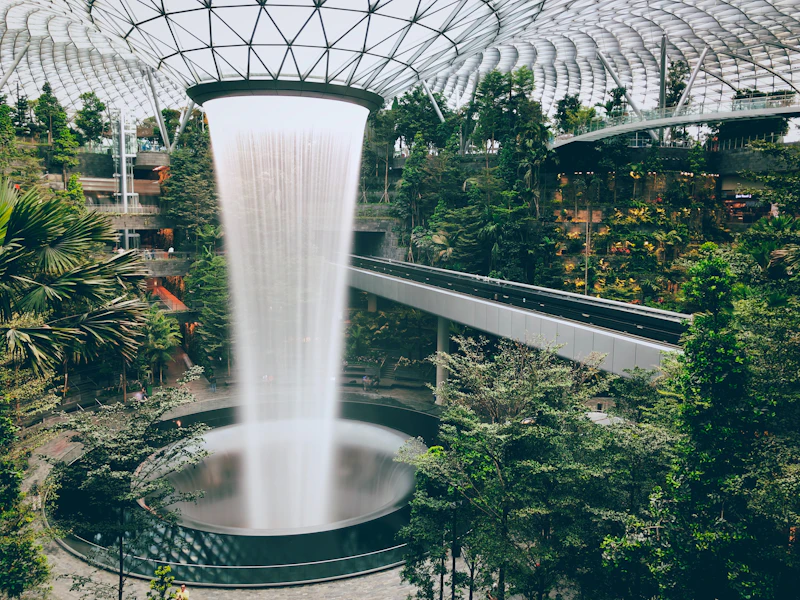 Make New Floral Animal Friends at Topiary Walk
The famous Jewel Canopy Park is located at the top level of Jewel Changi Airport. It receives a lot of interest from people of all age groups. This place is a must-visit because of the creative garden paths and the greenery all around. There are a lot of places within Canopy Park where you can spend your time, such as Foggy Bowls, Hedge Maze, Mirror Maze, and Discovery Slides — the Topiary Walk is possibly one of the most scenic ones of those. Almost touching the glass roof of Jewel Changi is the aesthetically pleasing Topiary Walk with its creative landscaping that is sure to delight everyone who passes by.
Why Visit Jewel Changi Topiary Walk
Jewel Changi is visually spectacular. It is one of the greatest places in Singapore to get a fresh breath of air within a concrete jungle and is home to a wide variety of flora. At the top level of the airport lies the Topiary Walk, which is known for the dramatic amalgamation of man-made and natural beauty. Amidst the greenery of the Canopy Park lies this calm haven of animals landscaped out of plants. Appealing to kids and adults alike, one can have a great time at the Topiary Walk spotting the animals and capturing them on their cameras.
What to See at Topiary Walk Singapore
The Topiary Walk at Jewel Changi Airport's Canopy Park is a great place to click some memorable selfies. The Topiary Walks consists of landscaped animals. These topiaries were popular in the past in Europe and have now been brought to the Jewel Changi Airport. You can explore the area and spot as many animals as you can. The Topiary Walk makes for a wonderful attraction for kids.
Topiary Walk Singapore Location
Topiary Walk is located in Jewel Changi at 78 Airport Blvd., Singapore 819666. It is on the top floor of Jewel Changi at L5.
Plan Your Visit to Jewel Changi
Practical Information
Timings 
Mondays to Thursdays: 10 AM to 10 PM
Fridays to Sundays and public holidays: 10 AM to 11 PM
The peak hours for Canopy Park and its attractions are from 1 PM - 4 PM
Facilities
Baggage storage is available for storing luggage and wheeled bags at L1.
Book Jewel Changi Tickets